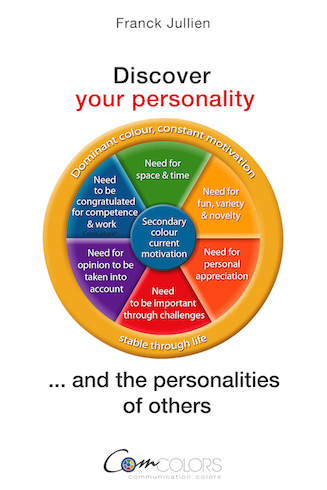 Discover your personality and the personalities of others
This books presents the bases, the concepts and the ComColors 6 personality types.
To read this book is to discover your personality and discover the personality of others around you. It's understanding what drives you everyday, understanding how you make your decisions, how you get in touch with others, what is your impact on others, understanding the way you behave while under stress or in conflicts. And of course, recognize all these behaviours in others.
Personality types are present in all aspects of your life. This book will allow you to look at the world with new glasses. You will ahave keys to understand the relationships you have with your partner, your children, your parents, your friends, your coworkers, your boss…
Already sold over 10 000 copies, this book full of anecdotes was written by Franck JULLIEN, designer of the ComColors model. COMCOLORS is a french brand.
Buy
Dernière mise à jour le 9 September 2020