Resources to take you further
I've written several books to help you understand the ComColors model and use it in your everyday life. I've designed them to give you the keys to understanding and to provide concrete answers to your questions, so that you can improve your relationships and your communication.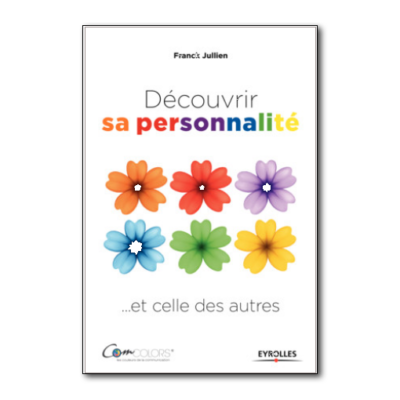 Discovering your personality and that of others
Discover the basics, the concepts and the 6 personality types of the ComColors model!
To read this book is to discover your personality and the personalities of the people around you. You'll understand what drives you on a daily basis, how you make decisions, how you relate to others, what impact you have on others, and how you behave when you're under pressure or in conflict. Finally, you will also learn how to recognise all these behaviours in others.
This book is for you if you want to :
better understand how you and the people around you work ;
be in tune with your sources of motivation;
understand the relationships you have with your partner, your children, your colleagues, your manager…
"A surprising book that allows you to discover yourself and, above all, to know how to deal with the "shadow" sides of yourself that you don't always want to admit... I really liked the very practical, easy-to-implement advice on how to improve your day-to-day well-being and how to manage communication with those around you."

Tatiana A

29/10/2019 on Fnac.com
"This is a very good book in which you can easily identify yourself and others. The colour system is very well established and precise, unlike other well-known models. The positive vision of each profile proposed in the book is appreciable, enabling us to identify areas for improvement in our personality. The concept of dominant and secondary colours helps us to better understand some of our reactions and behaviour. I'm very satisfied and would recommend it."

TH

17/10/2019 on Fnac.com
"A must-read!
It's all there in the title: you'll discover your true personality, detect that of others and communicate more effectively with those around you. It's a real goldmine at a low price, so make the most of it!"

Manon F.

12/10/2019 on Fnac.com
"An outstanding read. A must read
This book really sheds light on who you are and why you act in a certain way in a certain circumstance with a certain person. The colour code really helped me to remember my personalities. This manual gives you ways of changing your beliefs, behaviour and the way you communicate with others. This book is useful for personal, family and professional life. A must-read"

Maryvonne D.

21/03/2019 on Fnac.com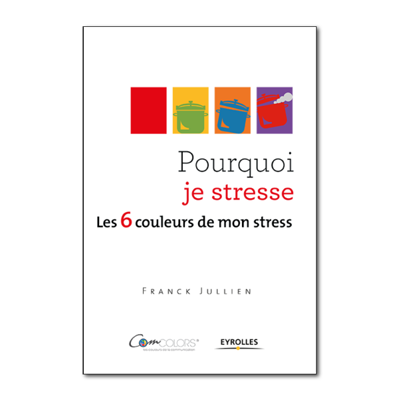 Taking care of yourself :
Why doesn't stress affect us all in the same way?
This book offers a personalised approach to stress for the 6 personality types. We develop and manage stress differently depending on our world view, our beliefs and our values! As a result, I offer you exercises tailored to each personality type to take concrete action on your stress.
This book is for you if you want to :
recognise your own stress mechanisms;
reduce your stress ;
change your negative beliefs that fuel the spiral of stress;
"An excellent book! A simple, practical approach to our stress mechanisms, both in the workplace and in everyday life! It helped me to understand how I function when I feel stressed and to feel less guilty about these behaviours. I've been able to realise that the causes of my stress are very different from those of others, and to reduce it."

Laëtitia Roy

25/07/2013 on Amazon.fr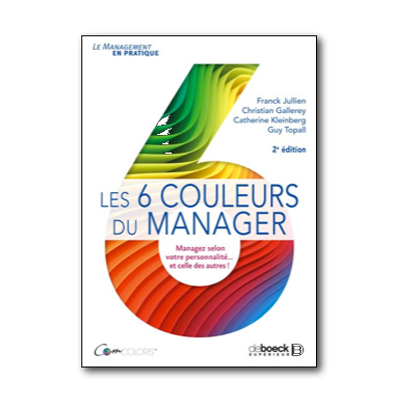 Improving team commitment:
The 6 colours of the manager
This book enables you to identify your management style and discover the one that suits your staff.
It covers the themes of motivation, stress management, framing interviews, conflict management and time management. Each chapter is structured in two parts: the theory, which presents the concepts used for each theme, and a playful setting, which illustrates the key concepts with the example of a real-life company CEO!
This book is for you if you want to :
obtain simple, operational keys for day-to-day management;
understand how your staff work;
boost the commitment of your teams!
"An essential book for effective managers!
An accessible look at the different personality types. Very lively, with colourful characters! Very practical and concrete, with summary sheets on how to manage each personality type."

Pram

07/02/2018 on Fnac.com
"A must-read !!!!
A must-have for your library. Theory, illustrations, analysis, toolkits .... everything you need to understand your management style through stress, time, conflict and motivation management. Simple and effective, this book will also help you to understand how you and your colleagues work."

Muriel C.

Le 25/02/2018 sur Fnac.com
"Easy to read
I found this book very interesting and enlightening!"

Etienne G.

18/03/2021 on Fnac.com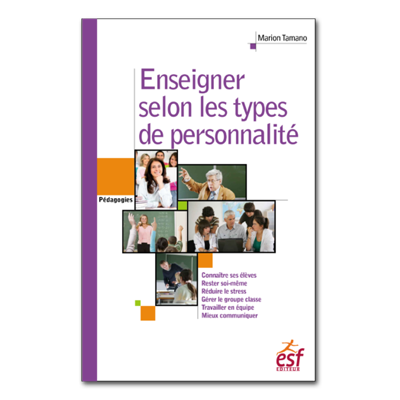 Teaching according to personality types
For the first time, the ComColors model has been applied to teaching.
The aim of this book is to help teachers analyse their position in the classroom, discover the sources of their motivation according to their personality profile and, in this way, respond better to situations of tension and blockage.
You will examine the 6 personality types in both pupils and teachers. This will help you to understand the interactions that take place between the different profiles.
It contains numerous portraits, anecdotes and testimonials, all of which are authentic, ensuring that the comments are firmly rooted in the day-to-day life of the profession and will enable you to understand your pupils and colleagues better. By becoming fully aware of your potential, you'll be able to flourish in your teaching profession.
This book is for you if you want to :
discover who you are as a teacher so that you can better become the teacher you want to be;
obtain accessible and operational tools, whether you are a beginner or an experienced teacher;
teach with greater serenity, confidence and authority in this age of digital knowledge accessible to all.
"This book helps you to identify the strengths and sources of motivation of each teacher, based on their main personality traits, so that you can invest as much as possible in your daily work."

Eloïse Fayard

16/02/2018 on Amazon.fr
Dernière mise à jour le 14 November 2023